Welcome to La Balian Villa and Retreat
Named after the local village of Lalanglinggah, our villa is just 5 minutes drive from Balian Beach on the west coast of Bali. Our villa is located in the heart of a working rice field, surrounded by coconut groves and the sounds of waves and tropical birds. If you're looking for a truly authentic Bali experience, look no further than La Balian Villa and Retreat.
This is Bali as it used to be, rich in culture and natural beauty whilst still offering a variety of local activities to keep you busy if desired.
Located on the west coast of Bali, we are situated just inland from the world renowned surf beach at Balian. Balian Beach village is minutes away and has a great old Bali vibe to it with laid back bars and restaurants that cater for the surf and yoga community. The area features spectacular coastal cliffs and green, lush, unspoiled countryside. The drive from the airport to the villa takes around 2 hours and the journey winds through Tabanan, Soka and the local area of Lalanglinggah before arriving in Balian, where La Balian Villa and Retreat is located.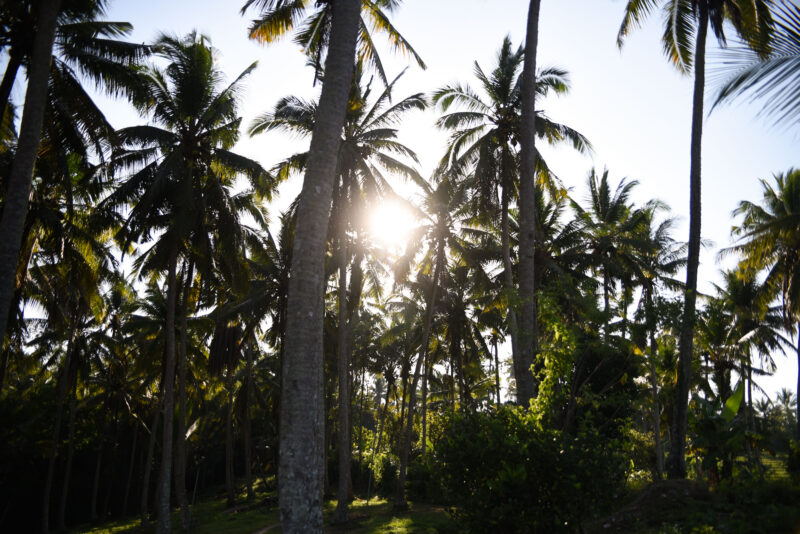 The Villa
Our clean and comfortable boutique hotel style accommodation is perfect for group accommodation. Whether it's a big family group celebrating a special occasion, a small wedding, a yoga retreat or group holiday, we can accommodate up to 20 people and ensure you all relax and unwind – away from the hustle and bustle of the tourist life in some parts of Bali. We offer 8 bedrooms, each with ensuites and when you book with us, you have full and exclusive use of the villa – no sharing with others which allows for complete privacy. The views of the rice fields are spectacular and ever-changing and can be enjoyed from anywhere within the villa including from the stunning large infinity edge swimming pool, large yoga shala or peaceful massage hut.
Our Villa Manager and in-house chef is famous for her delicious cooking. She recently released her own cookbook featuring all of our guests favourite recipes. If you're interested in trying some Balinese cooking at home, this is a great book, easy to follow and rich in flavour. All profits from the sale of this book go to the La Balian Villa and Retreat team.
La Balian is idyllic. We barely left the villa all week. The perfect place to go if you want to actually relax, catch up with friends, enjoy good food and not do too much! We had 8 adults and 8 kids aged 1-7 and everyone was happy.

 
Everything was so perfact for me !! They prepared everything that I need ,even free pick up from airport !! It was so good to be stay with big family or group of friends. I will be there again and recommend to friends. Thank you Dean !!
Great villa if you want to get away from the more tourist places of Bali. The villa was well maintained and the pictures don't do it justice. Infinity pool is perfect and safe for the kids. The staff prepared top quality food and very affordable prices. We were a group of 13 and had a great time. Balian beach is a great little spot with a couple of bars and restaurants. Toms garden cafe was great food and recommended. We had massages every day at the villa very cheap and excellent. Would highly recommend this place.
We all had a lovely time at La Balian and didn't want to leave! Communication with Dean prior to arriving was easy and he promptly answered all my questions. On arrival and during our stay; Vicki, Iluh, Gede and the team were so helpful and accommodating. We couldn't have felt more welcomed 🙂 Organising everything was easy and we especially enjoyed the cooking class. A big thumbs up for all the meals we had at the villa as well – even our pickiest eater was happy! The Villa itself has such a relaxing vibe about it and the view from the pool with the sun setting is beautiful. Despite the remote location; which for me was a major plus, you aren't completely disconnected from the world. There is good wifi if you want to use it and it is a 10 minute taxi ride down to the beach where there are a few cafes/restaurants. Then to get our shopping fix we just organised a day trip. Oh and the surfer in our group hired a scooter from the Villa and was up and surfing before the majority of us were even awake. All in all, it was a great stay and I would definitely recommend La Balian Villa 🙂
La Balian is the perfect getaway. It's hard to explain the idyllic location of La Balian: set in the middle of rice fields but only walking distance to the beach this truly is the perfect holiday destination. First of all, the communication with both Polly and Dean was prompt, efficient and accurate. Upon arrival the Villa Manager, Vicky, took wonderful care of our group of 15. Nothing was too much trouble. La Balian is not the place if you are after wild nightlife and fancy restaurants. (We did this in Seminyak and then followed up with five days in La Balian and it was the perfect mix.) La Balian is the place to relax: to do yoga in the morning, have massages overlooking the rice paddies and and swimming in the infinity pool. Besides breakfast, which is delicious, we had two major dinners at the Villa. A BBQ with suckling pig and a seafood BBQ: both were outstanding. The little surfing village of Balian Beach is only a 30 min walk away or transport can be arranged through the Villa. The Villa is well appointed and all the rooms are basically the same. Vicky and her staff were outstanding and made us all feel very welcome. I would strongly recommend La Balian to any group looking for some peace and quiet, some time to enjoy each other's company and to see the real Bali. I have no hesitation in recommending La Balian or planning another visit.